You remember Olli's chastising for talking down the multipliers?
well..
The intellectual edifice of austerity economics rests largely on two academic papers that were seized on by policy makers, without ever having been properly vetted, because they said what the Very Serious People wanted to hear. One was Alesina/Ardagna on the macroeconomic effects of austerity, which immediately became exhibit A for those who wanted to believe in expansionary austerity. Unfortunately, even aside from the paper's failure to distinguish between episodes in which monetary policy was available and those in which it wasn't, it turned out that their approach to measuring austerity was all wrong; when the IMF used a measure that tracked actual policy, it turned out that contractionary policy was contractionary.The other paper, which has had immense influence — largely because in the VSP world it is taken to have established a definitive result — was Reinhart/Rogoff on the negative effects of debt on growth. Very quickly, everyone "knew" that terrible things happen when debt passes 90 percent of GDP.
ok
raining on Reinhoff and Rogoff 
First, Reinhart and Rogoff selectively exclude years of high debt and average growth. Second, they use a debatable method to weight the countries. Third, there also appears to be a coding error that excludes high-debt and average-growth countries. All three bias in favor of their result, and without them you don't get their controversial result.

So what do Herndon-Ash-Pollin conclude? They find "the average real GDP growth rate for countries carrying a public debt-to-GDP ratio of over 90 percent is actually 2.2 percent, not -0.1 percent as [Reinhart-Rogoff claim]." Going further into the data, they are unable to find a breakpoint where growth falls quickly and significantly.
so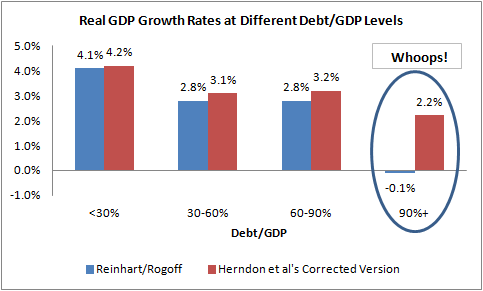 ..and Krugman again
But it seems that this is just what happened. According to the review paper, R-R mysteriously excluded data on some high-debt countries with decent growth immediately after World War II, which would have greatly weakened their result; they used an eccentric weighting scheme in which a single year of bad growth in one high-debt country counts as much as multiple years of good growth in another high-debt country; and they dropped a whole bunch of additional data through a simple coding error.

Fix all that, say Herndon et al., and the result apparently melts away.

If true, this is embarrassing and worse for R-R. But the really guilty parties here are all the people who seized on a disputed research result, knowing nothing about the research, because it said what they wanted to hear.
There is no alternative folks. Taking bets now on Irish coverage
Dr. FIVE   16 April 2013